19 Caliber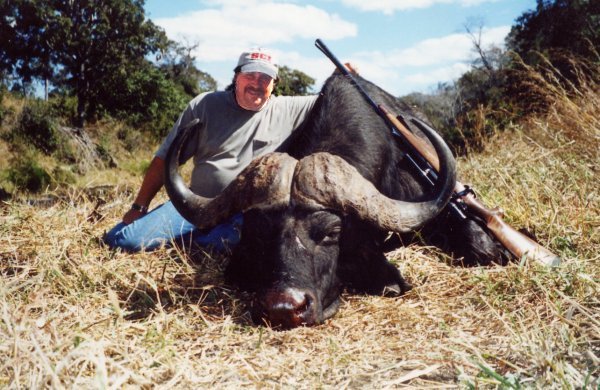 Kim's other rifle?
19 Caliber
At James Calhoon Manufacturing, varminting is our culture. We are avid varminters and our products are developed for our own use and enthusiastically field tested. Since we started making bullets in 1987, we have always developed products for ourselves first; the "Double HP" because we wanted dramatic hits and less ricochets; the "Slick Silver" plating because we wanted less fouling.
In 1997, we knew the 22 caliber rifles we were using recoiled unecessarily, overheated, and fouled too quickly for enjoyable varminting. The 17 was finicky and hard to load. We knew the military had developed a cartridge halfway between the two, the 4.85mm and had found it ballistically superior to the 22. We adapted this "19 caliber" to varminting. The results ....the 19 Calhoon (Hornet), the 19-223 and, new in 2005, the 19 BADGER. Varminters are taking to the 19 Caliber like rats to cheese!

---
James Calhoon
Custom 19 Caliber Varmint Rifles
19 Calhoon (Hornet), 19-223 and
NEW for 2005, the 19 BADGER

If you were to own just ONE varmint rifle it would have to be a 19 Caliber !
Long time outdoor writer (over 60 years) and avid shooter, Don Lewis, who is known for his candor and practicality, has chosen the 19 Calhoon(Hornet) as one of his favorites in his "All time top five" of Varmint catridges (Varmint Hunter Magazine, Oct 2001), placing the 19 Calhoon in the ranks of the 222, 22-250. 22BR and 6mm BR. We feel honored! As of 2005, with the introduction of our 19 BADGER, Don says the 19 BADGER may well be his NEW favorite varmint cartridge. Don says "the 19 Calhoon is a 250 yard rifle, adding 100 yards to the reach of the Hornet." Don said," The 19 BADGER, with just 3 grains more powder over the 19 Calhoon(Hornet), makes the 19 BADGER a 300 yard rifle!" Amazing performance, considering we are talking about 16 to 18 grains of powder!
Click here to go to 19 Caliber Experiences on this website to see more testimonials from some of the 19 Caliber shooters.
" With light bullets, awesome accuracy and scorching velocities, this former military round is a great varminter." is what Holt Bodinson said about the 19-223 Calhoon in his March 2000 Guns Magazine article "Calhoon's Amazing .19 Caliber" (Click here to go to "Calhoon's Amazing 19 Caliber" on this website)
19 BADGERTM
"You'll be leavin' your other rifles in the safe!"TM
19 BADGER
(scale 2:1)

THE NEW 19 BADGER

The new 19 BADGER is a result of field testing the 19 Calhoon (Hornet) and 19-223. Our minimizing approach to varminting, as John Anderson of Varmint Hunter Magazine calls it, resulted in this new, finely tuned, varmint cartridge. The 19 BADGER is a compact, powerful cartridge with a mere overall 1.3" length, built on a strong rimless case. The 19 BADGER maintains a powder capacity of 18 grains in a column of less than 1 inch. Even with a 25% increase in powder capacity over the "sweet shooting" little 19 Calhoon (Hornet), the 19 BADGER has the same minimal recoil that is so critical to good varminting, allowing you to see your hit time after time. The 19 BADGER provides a comfortable 300 yard range and velocities of 3725 with a 28gr bullet and 3550 with the 32gr. (The 4200+ ft/sec gurus, those geniuses behind the 17 Remington and .204 Ruger, would have you think otherwise, but attempts to achieve excessive velocities cause nothing but trouble for varminters!)

Once you own a 19 BADGER, "You'll be leavin' your other rifles in the safe!"TM

Time out here for culture in the form of poetry, penned by someone who, for obvious literary reasons, wishes to remain anonymous:

"While the .204 Rugers are scrubbin' out the blue,
The 19 BADGER keeps shootin' deadly and true!"
DEVELOPMENT OF THE 19 BADGER AND SOME OF THE PEOPLE THAT HELPED
Listening to customers' feedback is always a good idea, and it played an important part in the development of the 19 BADGER.
Michael "Coyote" Marks , had bought one of our first 19 Calhoon (Hornet) rifles and it was starting to show some use. You can put many thousands of rounds through a 19 Calhoon with that great PacNor barrel, but M. Coyote is a shooting fool that goes through rifles like ranchers go through pickup trucks; a new one every two years. He pestered us to put together a 19-221 based on the 19-223 reamer, run shallow, and we did.
Meanwhile , Dan Clements of Wyoming and Warren Carlson in California had us do up a 19-221 in 30 degree and 23 degree shoulders respectively, maintaining the longer neck of the 221 case.
Tom Launstein, in Michigan, went extreme and made up a 19-22-250, the biggest and nastiest 19 that we know of.
We gratefully gleaned invaluable information from all these adventurous shooters. It decidedly pointed out that our next 19 Caliber cartridge needed to be compact, built for use with a short action, rimless for slick feeding, and run velocities of 3600 to 3700 ft/sec.
In 2000, Jim Harrison of North Dakota, all around wildcatter and "metal head", took it upon himself to order his own reamers to develop the 19 Blackbird, a 22 Jet necked to 19 caliber and blown out. But Jimmy wasn't done yet. The Jet had a large rim and didn't feed in his favorite BRNO (now CZ 527). Digging deep into his wildcat memory banks, he realized the 30 M1 Carbine had virtually the same rim diameter as a 22 Hornet. A reamer and a little lathe time later, he had built a 19/30 Carbine and brought it to Montana and James Calhoon Mfg . to field test. Local
19 Calhoon shooter, Andy Waritz , "ambassador of Chinook, MT", found us a prime gopher patch. That afternoon, as well as gazillions of gophers, seven badgers were stopped dead in their tracks. It looked like this cartridge had the makings of a winner! Andy felt the new cartridge had to be called " 19 BADGER ". Andy was a major supporter of youth shooting and training, the second amendment, gun collector and all around great American. We found it fitting to use his choice of name, the 19 BADGER. We thank Jim Harrison for generously allowing us to use his idea and hard work for the basis of our new cartridge.
Since 2001, many rounds of field testing have proven the 19 BADGER to be another varminting favorite! Thanks to the encouragement and support of these and many other folks! Of course that includes Fred Heil , faithful customer, James Calhoon poster boy, and shooting partner, never bashful about sharing his opinions!
THE 19 BADGER IN A CUSTOM CZ 527 RIFLE
We have combined the exciting 19 BADGER cartridge with one of the world's finest mini-Mauser actions, the CZ 527. Expect unexpectedly flat shooting and 1/2" or better accuracy. These finely tuned custom rifles feature
a meticulously installed, free floated, supermatch PacNor or BenchMark stainless steel, handlapped barrel

a choice of sporter or varminter contoured barrel

pillar bedded action

target vented stock in choice of walnut, laminate, or H-S Precision Kevlar

trigger tuned to a crisp 20 ounces and 8 oz. for the single set

19 Caliber collector's insignia and sequenced numbering
SWEATING OUT THE DETAILS
When testing our 19 Calhoon rifles, writer Stan Trzoniec was impressed that we had given honest velocities and "sweated out the details ". We've done no less with the 19 BADGER. We work hard to supply all the 19 caliber accessories at reasonable prices , including:
James Calhoon "Fine Shootin' bullets" in an excellent range of weights

lcustom loaded ammunition

formed brass

Forster "Benchrest" full length and neck sizing dies

19 caliber, coated cleaning rods

bore cleaning guides, bronze bore brushes, Wilson trim bushings and more


19 BADGER, and 19-223 Calhoon in CZ 527 Mini-Mauser American: For the rifle purist, the CZ is the choice. A true miniature Mauser action with 2 front locking lugs and claw extractor. The action is "old world" quality machined from steel forgings, resembling a miniaturized version of the Model 70 Winchester. While the CZ standard trigger is pleasing, a set trigger feature is built in that operates in ounces.
Here are some more features of rifles chambered in the 19 Caliber, 19 BADGER in the CZ 527 rifle:
the ideal prairie dog and squirrel/gopher cartridge
250 plus yard range (100 yds. more than the standard Hornet, and more than twice the range and energy of the 17 HMR or Hornady Magnum Rimfire)
3600 ft/sec plus with a 28gr bullet (32gr and 36gr bullets available), bettering the 17 Mach IV(17-221), and without the 17 caliber bore fouling problems.
typical accuracy of 1/2 minute or better
Pac-Nor Super Match and BenchMark, handlapped barrel in varmint or sporter contours, in 3 barrel weights,.750"diameter at 24", .650" at 24" or .550" at 23"
bedded receiver with a free floated barrel
barrel channel venting just like the target rigs
20 ounce trigger, 8 ounces on the set
low recoil, flat shooting
cool shooting with minimum fouling and cleaning
detachable box magazine or available single shot follower
special appealing insignias to add collectability
factory loaded ammo or brass
a compact, economical cartridge. As Fred would say, "It's a wonderful thing" how many will fit into a shirt pocket.
Click Here for Accuracy Comparison (22 Hornet vs. 19 Calhoon (Hornet)
Features of the CZ 527 chambered in the 19-223 Calhoon include:

ballistics of a 22 caliber, velocities of the 220 Swift, yet low fouling and low recoil
expect velocities of 4050 ft/sec with a 32gr bullet, 3850 with a 36gr, 3750 with a 40gr, and 3650 with tthe 44gr
the 19-223 Calhoon easily matches the velocities of the 17 Rem but with a considerably heavier bullet (eg: 19-223 Calhoon shoots the 40 gr at 3750 ft/sec. while the17 Rem shoots the 30gr at 3600 ft/sec )
broad range of bullet weight choices ( 32gr, 36gr, 40gr, and 44gr), making the 19-223 Calhoon an excellent rifle for everyone from the varmint / pelt hunter to the game hunter.
typical accuracy of 1/2 minute or better
Pac-Nor Super Match, handlapped barrel in varmint or sporter contours, in 2 barrel weights, .750" at 26" or .650" at 24"
the CZ 527 is a true 223 sized Mauser style, dual front-locking lug, action with a compact .585" bolt diameter and 6" overall length
bedded receiver with a free floated barrel
barrel channel venting just like the target rigs
20 ounce trigger with a set trigger feature that will go adjust down into ounces
low recoil and very flat shooting
5 round detachable magazine or single shot follower
special appealing insignias to add collectability
factory loaded ammo or brass
Click here for complete 19 Caliber ballistic tables
And at James Calhoon Mfg. we are totally committed to supplying the 19 caliber shooter with a full line of accessories, at reasonable prices. Factory ammo, bullets, cleaning rods, jags & brushes, reloading dies, etc. And of course technical support, should you need it. The 19 Caliber is a great and long-awaited cartridge and we're making sure it's around to stay. Go to the price list section for pictures and products.
We wish to compare our favorite customer and long time hunting partner, Fred, the "Long Ranger" to the 19 Calibers.
Fred VS the 19 Caliber (More similar than you think!)
Just like Fred, a 19 Caliber rifle is always fun, enthusiastic, and ready to go hunting!
Like Fred, these rifles are sturdy and compact
Like Fred, the 19 Caliber rifle is reliable (although Fred does not have controlled feed or a rotary magazine).
Like Fred, the 19 Caliber keeps on shootin' and doesn't let you down!
Like Fred, the 19 Caliber will shoot better and further than you can.
But, unlike Fred, these rifles are good lookin' and easy on the eyes!
| | |
| --- | --- |
| | The next part is not nearly as entertaining as making fun of Fred (less dangerous perhaps), but we've spent years planning the19 caliber. We first noticed the 19 Caliber in a military display at a Gun Show in 1992. In discussion with Dan Cooper of Cooper Arms, Dan agreed it would make an exceptional varmint caliber. When we applied the 19 Caliber to ballistic computer programs, it was confirmed that the 19 Caliber's sectional density and ballistic coefficents put it at the top of the list for caliber/cartridge efficiency! We had to get this caliber out to varminters! Further investigation, prototyping and lots of testing, supported our first instincts and answered the question........ |
| Barry Gulck in 1997, holding the first 19-223 prototype. The first test barrel had a 14 twist. | |
Why a 19 Caliber?
In the 1970's, when the NATO countries were holding field trials for a superior infantry round, of all the calibers tested, (14,17,19, 20, 22, 27, 30) the entry that won was the "4.85 mm experimental", or 19 Caliber! It was found that the 19 caliber was balistically superior to the 22 caliber and far more reliable than the 17. It appears that the thickness of the cleaning rod was the only reason they chose the 223. So much for the history lesson. We decided that, what was good for the mililitary is certainly a good starting point for us varminters!
The 19 Caliber has exceeded our expectations! It produces a beautiful, flat trajectory, with plenty of stopping power and minimal pelt damage. Most important, the shooter can see his hits! Bullet weights from 30 - 45 grains are especially effective. Due to its military heritage, the 19 Caliber has an inherent reliability. 19 Calibers have rifling up to 50% thicker than the 17 and the long dormant 20 caliber (5 mm). Thicker rifling (comparable to that of the 22 and 6 mm) results in less cleaning and longer barrel life. We use Pac-Nor and BenchMark barrels exclusively for the 19 calibers. The fine people at Pac-Nor and BenchMark work hard to make their barrels the best quality barrels available. Double lapping and precise bore and groove dimensions translate into low fouling and impressive accuracy.


Why should you choose the 19 Caliber over the 20? The answer is clear! Aside from the fact that you get a proven military cartridge, James Calhoon Mfg. offers complete support for the 19 Caliber at reasonable prices! Our 19 Caliber products include :

the finest BR reloading dies from Forster / Bonanza
Dewey and Bore-Tech coated cleaning rods, bronze brushes and bore guides
Replacement Barrels
load tables that are safe and super accurate
James Calhoon "Slick Silver" bullets in 5 weights, 28, 32, 36, 40 & 44 grains, at reasonable prices.
loaded factory ammo
one stop shopping
Re-barrel Kits: include PacNor Super Match stainless steel barrels, Bonanza BR die sets, 250 bullets, bronze cleaning brushes, and safe load data, all for one affordable price (see price list)
Whether you order a complete custom 19 Caliber CZ rifle or a Re-Barrel Kit for your existing action, we have it all!. No need to chase for barrels, reamers, expensive form dies, load data, and headspace gauges. We have all the supplies at reasonable prices in one location and you'll talk to friendly, experienced people (most likely James himself, who is always happy to talk to fellow varminters).
For you 17 caliber shooters, once you try a 19 caliber, you'll never look back! The 19 Caliber offers 17 caliber velocities but with 22 caliber reliability, while maintaining vision of your shots. James Calhoon 19 Calibers are on the cutting edge of varmint shooting!
19 Caliber Accessories
James Calhoon Mfg. purchases 19 Caliber accessories in large quantities, so we can keep them in stock and pass them on to the 19 Caliber shooters at reasonable prices. We offer the following:
Factory loaded ammunition
A full line of James Calhoon "Slick Silver", Double HP bullets in 28, 32, 36, 40, & 44gr.
Replacement barrels
Forster / Bonanza reloading die sets and neck sizing dies
Bore-Tech coated cleaning rods, jags and bronze brushes
Bore cleaning guides
cleaning patches
cleaning solutions
Load information at no charge.
For prices and ordering information click here!
19 Caliber Re-Barrel Kits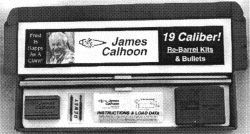 James Calhoon 19 Caliber Re-Barrel Kit
How do you make a custom James Calhoon 19 Caliber rifle?,
Easy! Order a James Calhoon Re-Barrel Kit (see enclosed "Fine Shootin' Supplies"). Take the kit, along with the rifle you want re-barreled (for the 19-223 CALHOON, use any 3/8" bolt face action; for the 19 CALHOON, use any Hornet action,for the 19 BADGER, the CZ 527 is an excellent choice) to your gunsmith and ask him to thread our barrel for your rifle. That's it! It's an excellent way to add new life and value to a worn or inaccurate rifle.
The 19 calibers provide the firearms enthusiast with the latest in high performance firearms technology.
Converting your existing rifle, with a Re-barrel Kit to a 19 Caliber, in 3 great cartridge choices.

Ballistics of a 22 caliber, velocities of a 220 Swift, yet low fouling and low recoil, in three great cartridges...
19 BADGERTM
up to 3725 ft/sec
19-223 CALHOONTM
up to 4100 ft/sec
19 CALHOONTM
(Hornet)
up to 3600 ft/sec
How did Fred get his 19 Caliber? Easy! He ordered a Re-Barrel Kit from James Calhoon. Fred took the Re-Barrel Kit to his gunsmith and had the barrel threaded for his existing action. A James Calhoon Re-Barrel Kit includes a chambered and contoured barrel (chrome moly or stainless steel), a set of Forster/Bonanza BR reloading dies, 19 cal. cleaning brushes and a box of James Calhoon 19 cal. bullets, all at about half the price of a new rifle. For those of who want a new CZ 527 in 19 Caliber, James Calhoon also supplies them.



19-233 CALHOONTM
Simply run a 223 case through the Forster/Bonanza "BR" reloading dies (provided in the Re-Barrel Kit) and you have the 19-223 CALHOON, or simply order preformed cases from James Calhoon! A case with the capacity of a 222 Mag and the velocity of a 220 Swift. Fast, economical and fun to shoot!
James Calhoon 19 caliber bullets come in a broad weight selection (32, 36, 40, & 44 grains), all big enough for a man to get a grip on. The case mouth is big enough to get powder into.
James Calhoon Re-Barrel Kits will fit any 3/8" bolt face action (17 REM, 221, 222, 223, 222 Mag) and contain a bunch of goodies at about half the price of a new rifle. The 19-223 Re-Barrel Kit contains: a match grade barrel, your choice of chrome moly or stainless steel, which has been contoured and chambered (requires only threading by gunsmith); six 19 caliber Dewey bore brushes; a set of top quality Bonanza "BR" loading dies; 250 custom 19 caliber James Calhoon bullets; complete instructions and load data.
Expect velocities of:
4050 ft/sec - 32gr bullet
3850 ft/sec - 36gr bullet
3750 ft/sec - 40gr bullet
3650 ft/sec - 44gr bullet
CARTRIDGE COMPARISON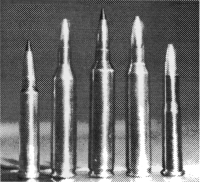 L to R: 19 CALHOON, 17 Rem, 19-223 CALHOON, 223 Rem, 22 Hornet
---
19 CALHOONTM
Like the 19-223 CALHOON, the 19 CALHOON requires no expensive form dies. Just run a Hornet case through the provided Bonanza "BR" reloading dies (included in our Re-Barrel Kit), load and shoot, or simply order preformed cases directly from James Calhoon. Compact, economical to shoot, with very low recoil makes the 19 Calhoon Re-Barrel Kit ideal for Ruger 77-H actions, Martinis, 5mm Remington, Contenders, BRNO CZ527, ANSCHUTZ, etc..
The 19 CALHOON Re-Barrel Kit contains: a match grade barrel, your choice of chrome moly or stainless steel, which has been contoured and chambered (requires only threading by a gunsmith); six 19 caliber Dewey bore brushes; a set of Bonanza "BR" loading dies; 250 custom 19 caliber James Calhoon bullets; complete instructions and load data.
Reloading the 19 CALHOON costs about 50% less than buying 17 HMR ammo (Hornady Magnum Rimfire), or about the same as purchasing 22 Magnum ammo, but that is where the similarity ends. The 19 CALHOON easily has twice the range and energy of the 17 HMR. (Expect velocities of 3600 ft/sec with a 28gr bullet, and 3400 ft/sec with a 32gr bullet.)
The 19 CALHOON produces velocities similar to the 17 MACH IV, in an even more compact cartridge without all of 17 caliber problems.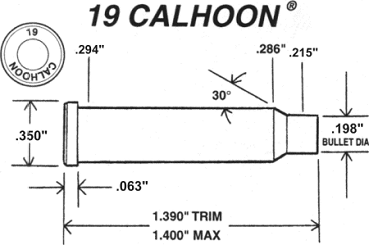 THE FACTS...
Below is an example of loading data and velocities for the 19 caliber Calhoon cartridges. Compared with the 17 Remington, the 19-223 CALHOON will drive considerably heavier bullets (with much better ballistic coefficients) at similar high velocities. The 19-223 CALHOON is also more bullet-weight versatile (32 to 44gr), allowing as light as 32 grains for pelt hunting and as heavy as 44 grains for long range performance. When compared to the classic 223, the 19-223 will shoot flatter and produce higher velocities with equal weight bullets.
19-223 CALHOONTM

BULLET
POWDER
CHARGE gr.
VELOCITY fps
32gr
Dbl HP
AA 2520
27.0
4025
BLC-2
28.5
4025
36gr
Dbl HP
AA 2015BR
24.5
3840
BLC-2
27.5
3830
40gr
Dbl HP
VIHT N550
28.0
3780
AA 2520
25.5
3680
44gr
Dbl HP
VIHT N550
27.5
3670
AA 2700
29.0
3540
The 19 Calhoon(Hornet) is an amazing performer, that delivers more than 3500 feet per second in a compact package. The 19 Calhoon utilizes "mini-sized Hornet actions for a truly compact and lightweight rifle platform.
The 19 BADGER, also using the same compact CZ 527 action but adds 200 feet per second vs the 19 Calhoon to operate in the 3700 feet range. The 19 BADGER is considered to be a 19 Calhoon on steroids by Fred! The 19 BADGER is our version of a modernised Hornet casing by removing the rim and substantialy thickening the case walls. While one tenth of an inch shorter than the Hornet, the body is fatter adding 4 grains more power capacity. Gun writer Don Lewis predicted many times that the old 22 Hornet would finally become obsolete. The 19 BADGER may be the cartrigde to do it ! Go ahead and compare the 19 Calhoon(Hornet) vs our superior 19 BADGER cartridge.
The following is sample of loads for the 19 Calhoon(Hornet).
19 CALHOONTM

BULLET
POWDER
CHARGE gr.
VELOCITY fps
28gr
Dbl HP
AA 1680
14.7
3550
WIN 296
12.0
3530
32gr
Dbl HP
AA 1680
13.5
3340
VIHT N120
13.3
3270
36gr
Dbl HP
AA 2200
15.0
3165
AA 1680
12.5
3000
40gr
Dbl HP
AA2200
14.5
3060
AA 1680
12.0
2860
Cool operating and very low fouling make the 19 BADGER the ideal gopher, squirrel prairie dog cartidge!! When combining the compact CZ 527 action with the powerful compact 19 BADGER cartridge, James Calhoon has created "The Ideal Varminting System"TM
19 Badger sampe loads go here
*Complete loading data is included with our Re-Barrel Kits, with information for new bullets as they are added to the James Calhoon line. Also included are instructions regarding case forming and loading specifications.
Since 1987, James Calhoon Mfg. has produced "Fine Shootin' Bullets", developing such original features as the "Double Hollow Point" and "Slick Silver" plating, resulting in extra explosiveness and reduced fouling. Our reputation is built on accuracy (Cooper Arms uses James Calhoon 20,22, and now 19 caliber bullets for testing their fine rifles) and true varminting performance.
When you choose a James Calhoon product, whether it's a 19 caliber custom rifle, 19 caliber Re-Barrel Kit, our19, 20 or 22 caliber "Fine Shootin' Bullets", or our line of accessories, you know they will work in the field. All our products are enthusiastically tested in Montana, the heart of varmint country.
Click here for more 19 caliber experiences & ballistic tables!